Energy Management Information System (EMIS)
We offer a complete Energy & Resource Management platform that integrates all your organization's data sources, offers fully customizable reports & real-time dashboards and engages stakeholders across your organization, while providing advanced analytics to avoid losses and maximize performance.
You can't manage what you can't measure, which is why an Energy Management Information System (EMIS) can help your company drastically improve in energy savings and process optimization.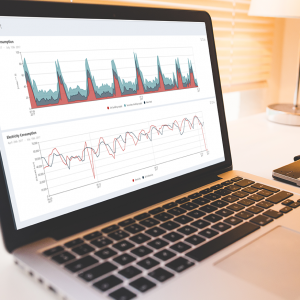 Flexible Data Integration
Collect data from a wide range of locations, systems & formats, including: FTP(s), HTTP(s), process historians, IoT devices and third-party websites.

Establish KPIs, generate intelligent targets, determine savings and perform benchmarking across assets, departments and facilities.

From corporate reporting to asset monitoring, reports, live dashboards and presentations are fully customizable.

Set targets and receive real-time notifications to ensure optimal asset, area and departmental performance.
Key features include:
Advanced utilities monitoring & targeting package with comprehensive target setting functions
Deliver real, sustainable cost savings and loss avoidance measures.
Comprehensive group reporting tools to satisfy benchmarking requirements and facilitate corporate reporting.
Auditable carbon reporting with advanced tools & comprehensive reports to international standards.
Automatic, customizable email reporting empowers individuals to reduce utility usage.
Flexible data collection options with manually collected data and various automatic data collection hardware solutions.
Profile based security allows the highest level of user access flexibility across an organization.
Embedded modelling tool to generate multivariate regressions and covert them to baselines or targets.
Manage projects, benchmark, and share best practices with our energy management information system.